Assessment and Record Keeping
Learning Journey's at Highfield - Tapestry
At Highfield we use an online assessment system called Tapestry. This is safe and secure and enables the team to keep an electronic learning journey about your child. The great thing about this is you receive notifications when a photograph or observation is added and you can also reply. You are also able to add your own personal photographs so it is a perfect way for us to share information together about how your child is progressing. When you start we will ask for email addresses that you want to link to your child and then the sign up is simple. For more information please talk to your Mollie in the main office.
We regularly observe and assess children's learning which enables us to plan appropriate learning activities that stretch children's learning and ensure progress. Each child has a Learning Journey which is a record of their progress, and includes observations and photographs of the child playing and learning. Parents and carers are invited to contribute to their child's Learning Journey with things they have been doing at home. This helps us to get a better understanding of your child's learning and development and to plan activities to support and extend it.
We assess children using the Early Years Foundation Stage Development Matters (DM2020). Parents and carers are invited to share their child's Learning Journey and to talk about their child's progress with their Key Person and also have opportunities to talk to their child's Key Person and the class teacher each day.
We also observe and assess the dispositions your child is developing during their time at Highfield.
The Highfield Dispositions are:
Curiosity

Creativity

Communication

Collaboration

Persistence

Motivation/Marvelling
These will be recorded at the end of observations in your child's Learning Journey.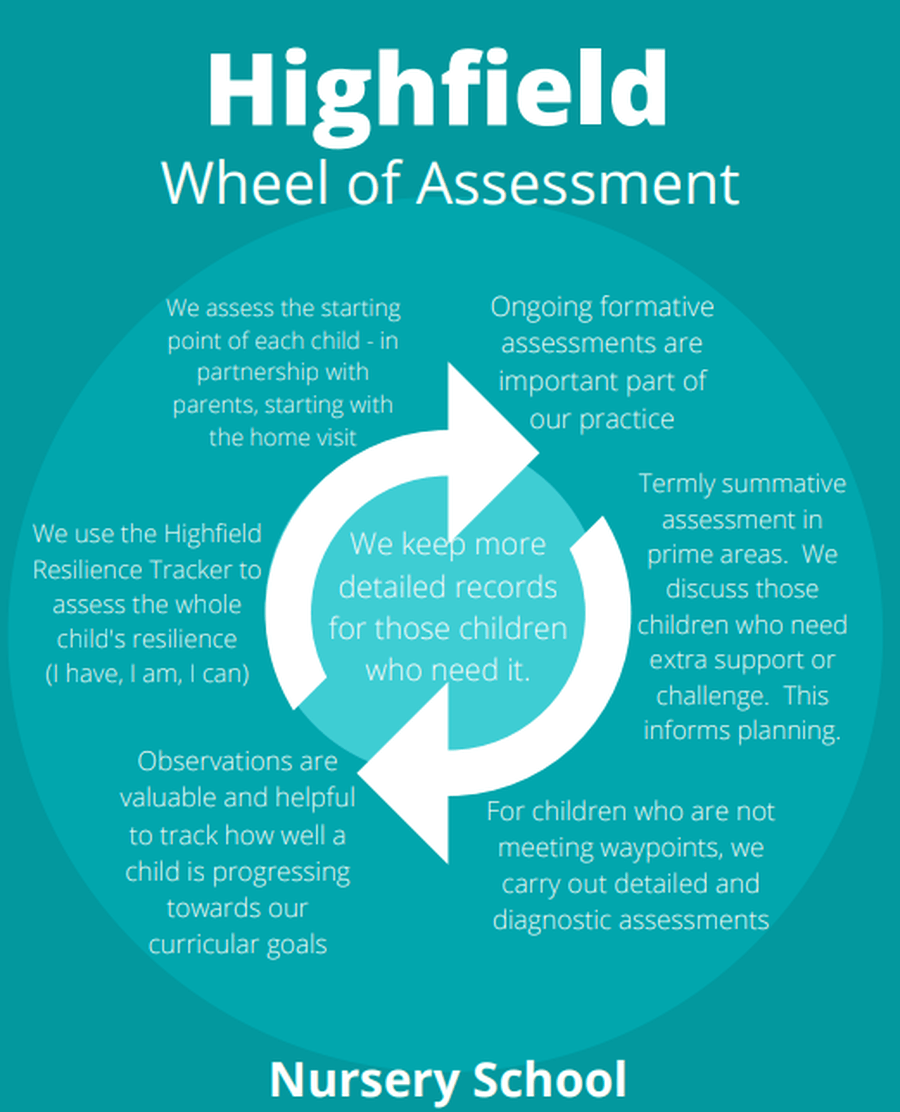 Assessment - Highfield Curricular Goals
We have designed a set of Curricular Goals - linked to the Prime areas of Development Matters 2020. The Curricular Goals are based on what the Highfield team know are important steps for our children to make during their time at Highfield. This will ensure children are thriving and ready to start school.
Communication and Language -
Can take part in reciprocal conversations
Physical Development
Independent self care

Can show balance and co-ordination on an obstacle course
Personal, Social and Emotional Development
Can engage in an activity of their choosing and will thrive as a confident learner
We have designed 'Waypoints' to ensure we can check all children are on track to meet the curricular goals by the time they leave Highfield. The Waypoints are flexible as we know children's learning is not linear - it is more like a spiders web
Curricular Goals are shared with parents at the Induction Evening, prior to starting at Highfield and referred to throughout the year.