Our Setting
Welcome to Early Years @ Highfield
Early Years @ Highfield daycare was opened in January 2007. The daycare team provide high quality care and education for 24 children aged two to five years. The daycare room is an attractive purpose built room with exciting play areas inside and outside and also areas for quieter activities and sleeping.
Our main aim is to provide a happy, caring environment which promotes the all round development of each individual child in our care.
This aim was recognised in July 2007, again in November 2009 and again in November 2014 when the daycare received 'Outstanding' in both Ofsted inspections. We are very proud of these achievements and they are a testament to the passionate and committed team that work here. Please follow this link to read our latest Ofsted Inspection Report.http://www.ofsted.gov.uk/inspection-reports/find-inspection-report/provider/CARE/EY337155
The daycare is open Monday to Friday 8am to 6pm for 50 weeks a year. We offer various flexible sessions for chidlren including Two Year Old Funding and Early Years Grant Funding for three and four olds. Fees and Opening Times
If you would like to find out more information about our setting, or would like to arrange a visit - Please contact us. Contact Us
Our Ethos
The team is committed to promoting high quality learning through a geniune partnership with the child and parents/carers. We recognise that emotional and social developments are vital and we believe in valuing and respecting each individual in a welcoming, accessible and inclusive environment.
We actively encourage a lifelong love of learning. Through our continued team development and our muti-agency partnerships, we promote deep understanding of the whole child.
" Growing and Learning Together"
Aims
To do this we want individuals to:
1) Develop healthy minds and bodies
2) Lead safe lives and make informed choices
3) Enjoy and Achieve
4) Participate and be involved
5) To become lifelong learners
We provide an environment where children and their families feel safe , secure and confortable and with people around them, free from pressure, where they are given time and space to be themselves. We believe that by feeling valued and respected we all develop the self-esteem to accept others and ourselves. We provide opportunities to develop new skills and understandings, the chance to explore and experiment within the environment. We build on what the child already knows, and aim to promote creative and challenging learning opportunities for discovery, exploration, problem solving and self-expression, which help the children and the team, develop a passion for learning.
We ensure each child feels special and included and has the right to be listened to and their opinion respected. We help each other to care for the environment and to know that each of us has a role and can make a difference in our community and in the wider world.
The daycare team always treat children with respect. Our whole team approach is fair and consistent.
Our Indoor Learning Environment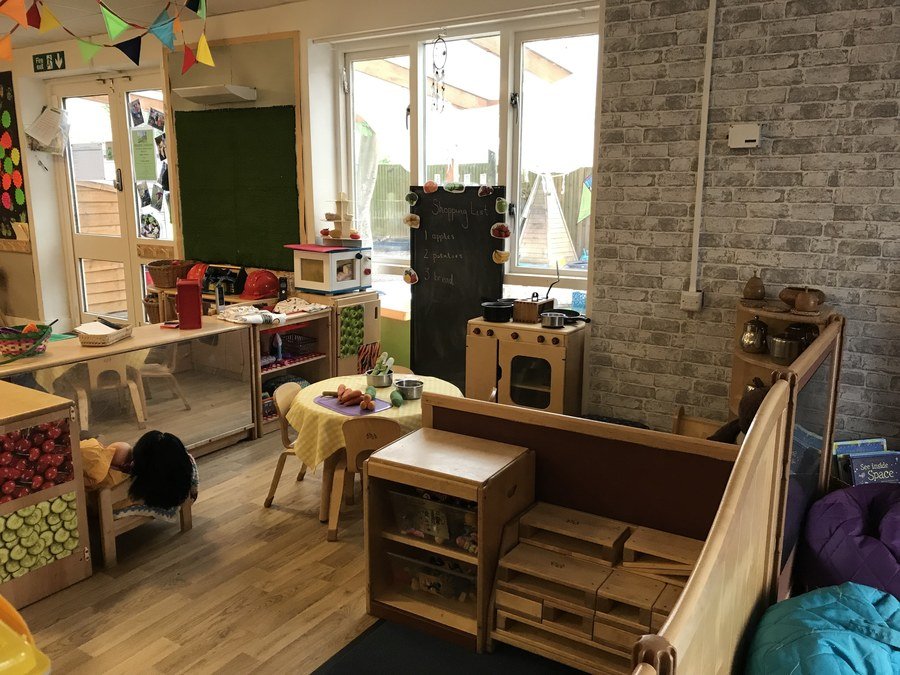 Our Indoor learning environment is bright, spacious and stimulating area where children can self select their choice of resources and activities.
The space is divided into 'Areas of Learning' which house specific resources included to promote children's learning and development.
The room also features a large cosy 'book corner' area where children can relax and share a story of their choosing.
A door provides direct access to the enclosed Daycare Garden.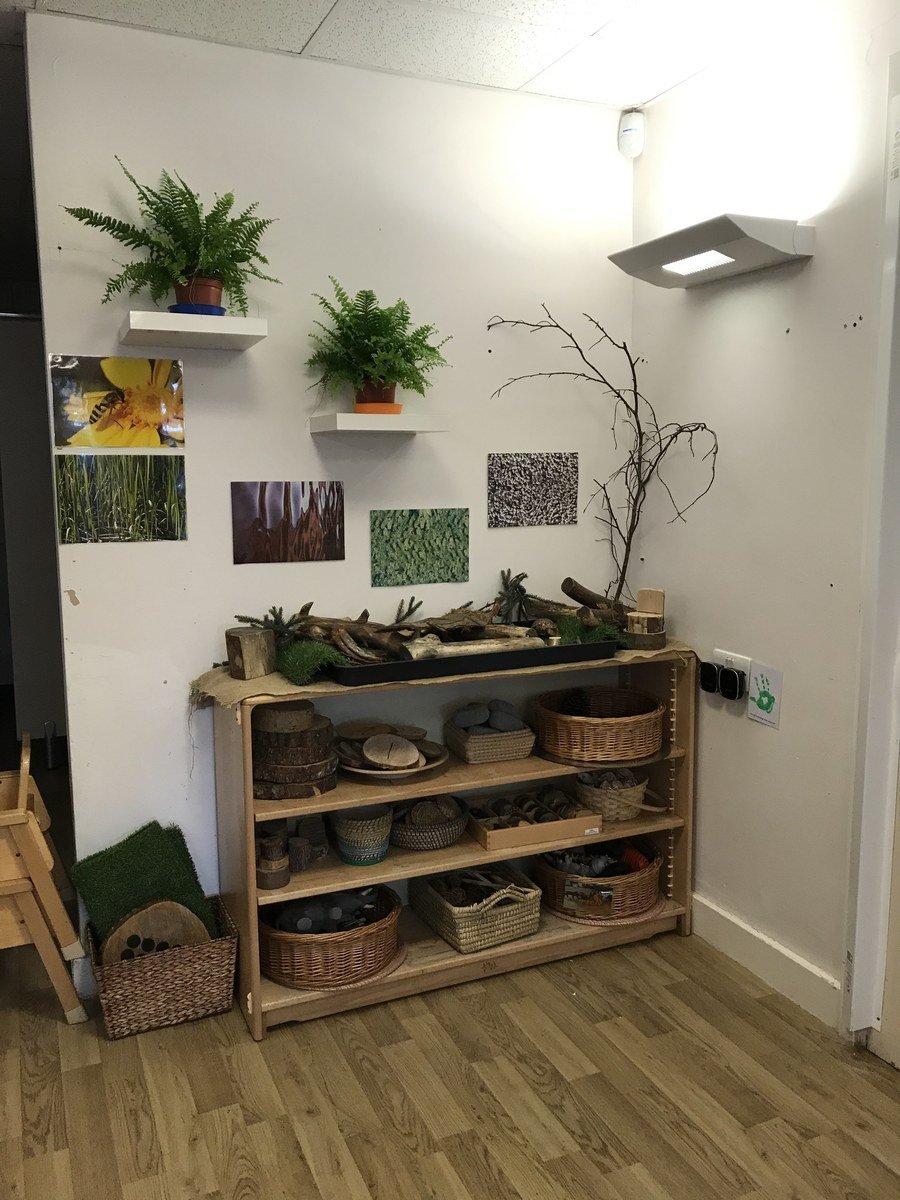 Our Outdoor Learning Environment
We believe that indoor and outdoor play are important elements of children's learning and development. We recognise that often young children's learning and development flourishes when they are provided with rich and stimulating outdoor areas and the time and freedom to explore these spaces at their own pace. Children have access to our outodoor areas for much of their session with us, we place much emphasis on children making choices about whether they spend their time indoors or outdoors. The team strongly encourage children to enjoy and play in all weathers.
Highlights of Daycare Garden environment include; a Mud Kitchen where children can explore, create and construct using mud and other natural products, a Digging Area which features a 'sunken' sand pit and a wide range of resources for children to use in their exploration of this area, a large covered Verandah area which houses den making equipment, construction blocks and creative resources.
Within the Daycare garden we have made a conscious decision to maintain the mature trees and shrubbery - understanding that young children need to experience the natural world hands on. The trees in our garden also provide a multitude of learning opportunities for our children, including; climbing, bird and squirell spotting and creating dens.
In all seasons we are busy planting seeds and plants in our garden, many children find helping to look after our growing plants an opportunity for them to develop an understanding of the natural world, change, growth and decay.
On a daily basis we make use of the large Nursery School garden areas, giving our children great opportunities to move around in a large space and access the climbing equipment, developing their gross motor skills and allowing further space and opportunity for them to explore, experiment and challenge themselves.
We also make regular use of our 'Meadow' and 'Pond areas' which are located within the Highfield grounds. The Meadow is a large, natural space which houses mature trees, grasses and other plantlife, as well wildlife...it is the perfect place to spend a few hours hunting for minibeats, building dens, whittling branches or making a potion. Daycare plan "Daycare @ The Meadow" sessions throughout the year and often invite parents/carers to join us in discovering all that the Meadow has to offer, sharing in the experience with their child.