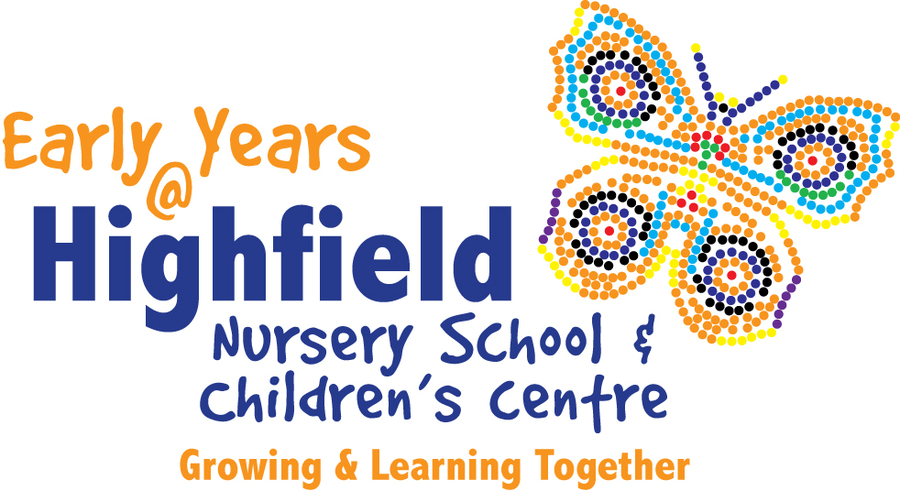 Daycare News
Severe Weather Guidance
In the event of severe weather can we please ask parents to check for information on school closures on:-
BBC Radio Suffolk Website www.bbc.co.uk/radiosuffolk
Or www.schoolclosures.suffolk.gov.uk
and/or listen to
BBC Radio Suffolk (95.5 FM, 95.9 FM, 103.9 FM, 104.6 FM)
The announcement will not individually name Early Years @ Highfield, but will state "Highfield Nursery School and Children's Centre is closed"
Please note there will be no information on the Highfield phone line.
Dates for your Diary
Staff Development Days
Highfield Daycare, Nursery School and Children Centre are one centre therefore each year we have Professional Development days together. The centre closes on the following days
Wednesday 6th September 2018
Wednesday 2nd January 2019
Tuesday 23rd April 2019
Term Dates
Thursday 6th September- Wednesday 19th December
Half term- Monday 22nd October 2018- Friday 26th October 2018
Thursday 3rd January 2019- Wednesday 3rd April 2019
Half term 18th February 2019- Friday 22nd February 2019
Easter Holidays Monday 8th April 2019- Friday 19th April
Wednesday 24th April 2019- Tuesday 23rd July 2019
Summer Holidays Wednesday 24th July - Friday 30th August 2019
Daycare Stay and Play Event
Date to be confirmed
All Daycare children, parents/carers and their family are invited to our Termly Stay and Play session.
Come and see how your child spends their busy Daycare session.
There will be lots of fun and exciting activities for you and your child/children to join in together.
Your child's Key Person will be available to share with you individual Learning Journeys and talk with you about your child's achievements.
We hope you can join us
PLAY & LEARNING EVENING
Dates to be confirmed
You are invited to find out more about young children's learning and school readiness.
We are hosting this Play & Learning evening on three dates so that it is possible for both parents/carers to attend without the added concern of childcare. In the past, parents have found this evening extre
mely valuable in helping to understand young children's learning and development.
Have you ever wondered why your child pushes the buggy around all day without a doll in it?
Have you ever wondered why your child lines up all their dinosaurs, or pours water back and forth between containers?
Looking at these questions will help us understand more about how the brain develops at this stage and different aspects of supporting our children through play.All parents/carers welcome, your child does not have to have just started daycare to attend.
Friends of Highfield
Would you like to become a Friend of Highfield?
Help Highfield raise funds for lots of projects that are in the pipeline
Once we are established we are hoping to become an official charitable group
If you are at all interested & would like to learn more then please speak to the office
We will welcome ALL ideas and input
Put as little or as much time in as you want
Newsletters
See below for our most recent Newsletter, featuring important dates for your diary, curriculum and team news.
Other Information
E-safety Zone
Parents - MIND THE GAP!
How we communicate has and will continue to rapidly change with the use of social media and technology. A study by EU Kids Online tells us that very young children are growing up at ease with digital devices. The introduction of the tablet and swipe screen technology means that toddlers are able to interact with these devices easily as the swipe actions needed to work them are more in keeping with a young child's level of physical development and are much easier than learning to control a mouse or click a button. Statistics tell us that by school age 70% of children are confident in using a laptop, tablet or smart device and that 17 % of children under 3 have their own device.
Helpful ideas for Parents……
Know which devices connect to the internet and how. Even some TV's connect to the internet now!
Make sure that the Parental controls and settings are filtered to make sure your child can use the technology safely.
Keep all gadgets that connect to the internet in a 'family space'. This will help you to monitor your child's online activity and also means you will be nearby if your child stumbles across something they didn't mean to see.
Try to keep up! Wikipedia is a great site to use to stay updated with the latest online trends. Get Wise Online is another good site for advice and if you want to learn some internet lingo!
The UNDERWEAR Rule
What's Private, Stays Private
NSPCC Campaign
Increasingly in the world things are becoming more & more public, not only with the internet being so accessible to all but with social media, reality TV and really just in general & so we feel it is really important to teach the children awareness from a very young age.
So, as part of our learning this term, we shall be learning more about the NSPCC campaign.
We will have a display in our corridor for you to see what it's all about and some really useful leaflets to take away and read. If you have any questions about this please see your class teacher or a member of the Centre Staff.